Healthcare Advice for People With Disabilities and Their Caretakers
Inclusion Center, Inc. Fall 2021 Newsletter
ABOUT THIS ISSUE:
Our Fall 2021 issues focuses on tips for getting your healthcare needs met: 1. taking notes 2. talking to health care providers and 3. going into the DR's office. A special section highlights what to take with you in preparation for long ER waits. Members experiences highlight each section. On a lighter note, jokes and an update from members also are included.
WELCOME

M.O

We welcome Fall and all of the beauty it brings. Much like the diversity of colors maples, oaks, and aspens, the uniqueness of every Inclusion Center participant serves to create our strength.

IC continues to grow and prosper. We continue to set up ways of reaching out to communities to let them know we are here and what we offer.

Hard work during the past year by J.C. brought us to our newly developed website. A truly massive amount of work hours and dedication went into this change and we thank JC for all she has done.

Our board has grown by one: M.O .is now secretary, having arrived at IC 18 months ago.




Who else will find IC? Are you spreading the word about us? We hope so. ****
Tips on Getting Your Healthcare Needs Met
Keep a list of your symptoms, what doctors you've seen and dates you saw them and why.
Member Experience' From F.
F. was in a great deal of pain. Her doctor gave her new medication and was told she would know if the medication was the right one within two weeks. Time went by, M. was in more and more pain. She thought it might have been two weeks ago that she began the medication. She looked in her records and saw that four weeks had gone by!
F went through two extra weeks of more and more intense pain, to the point where she could no longer walk without crutches.
** **
Our minds aren't as clear when we're in pain or feeling miserable.
Take notes!
****
How to Talk to Healthcare Providers
Before you go to the doctor, write down the issues that are bringing you to each visit or call, and why it is you're taking each medication.
We get so used to our symptoms we often forget they are symptoms.If you get a headache every weekend you'll think this is normal and not a symptom. To other people, having two headaches might send them to the ER!
Write down EVERY symptom, no matter how seemingly trivial, insignificant or irrelevant. Remember, you're not the specialist! You might know what is impacting your life the most, but you might not know what symptom will lead to the actual diagnosis.
Medical practitioners need to know the whole story, all the symptoms, so that they can best put the pieces of the puzzle together .
How to Talk to Doctors
has more hints.
Member Experience From J.T.
I went to the doc because my joints were hurting so much. I knew I had arthritis. The doctor asked me if I had a rash. Months ago I did have a rash. It went away, I didn't really think twice about it. But it was the rash that led us to my lyme diagnosis! By dealing with the lyme I was able to get rid of most of the arthritis.
Remember, the doctor is putting pieces of a puzzle together. Give her as much information as you can. You don't want to keep searching for months! Nothing is irrelevant in the work of finding out what is going on, give her all the information.
Member Experience
From M.O.
I learned, this past summer, not to assume anything where communication is concerned. I had been experiencing severe pain for many days and expected my home health aide to arrive Monday morning to drive me to Urgent Care. I ended up having to drive myself (after researching when to call an ambulance and learning that, in Covid times, one should do so only in life-threatening situations.)
My aide had called out sick (yet again) and the agency promised (as usual) to find a substitute. They never called back (again, as usual.) Upon returning home from both Urgent Care and subsequently the ER, the pain had returned in full swing. I again called the care agency and they promised to find a sub. Again, I waited all day for a return phone call. I gave up on day three, crawled into bed and could not stop bawling. On day five, the pain produced anger instead of despair and I called the agency again. When they heard me trying to speak through sobs, they exclaimed, "Are you STILL in pain??"
I then realized that my former pleas had been put on a shelf simply because I had not continued to phone, begging for help.
I ended up having to hire a private aide and pay out-of-pocket.
I (hopefully) will never again assume that any agency is "working on it.'' I will phone them at least twice a day to update them on my urgent needs.
****
One of our talented artists, A.V. did this drawing of us all when we last met in person. She even included the Inclusion Center mascot, Owen (who sadly passed this spring). We look forward to greeting new and old friends once it is safe to have inside meetings and to keeping up Zoom sessions for those who cannot join in person. J.C.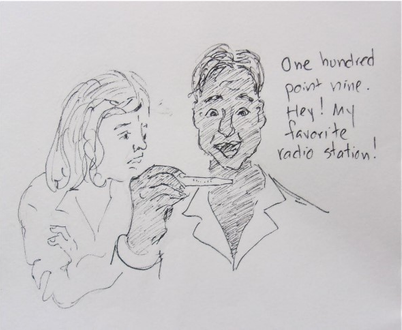 Going Into the Doctor's Office
Bring a clear, complete list of symptoms,
with a clear list of your questions and concerns.
Relax when talking with the doctor. The doctor is just a person with a number of years of education.
She might be smart in her field, but you're extremely smart and knowledgeable when it comes to your body!
Sit back, look over your questions. Ask each question until you feel it's satisfactorily answered. Make sure you're content with the quality of the answers.
Before you leave the office, make sure you
understand the steps the doctor is going to take for your care once you leave the office. Understand the steps you are going to take for your care once you leave the office!
Repeat what you understand (above) to the doctor just before the appointment ends.
Further Information:
Seven ways to advocate for your health care
Legal healthcare advocacy in Vt
(for those of you looking for legal assistance)
How to communicate well with doctors
****
Be Prepared Before an Emergency
Since most of us might end up in the ER due to our disabilities rather than a random accident, it is possible to be somewhat prepared.




An ER bag by the exit door of your home can be a sanity-saver.




In it one might stash comfort material (i.e. an eye mask for migraine sufferers,) a blanket,

(my last trip to the ER found the room at 55 degrees,) a book or entertainment for the typical long wait, food and drink, (I developed a hunger headache waiting so long and they had only crackers, which were contrary to my medical diet.)

Any other comfort item: mine is a small cake of beeswax from my personalized aromatherapy box.

I hold it to my nose, breathe deeply, and am calmed.

Earplugs to lessen the noises of piped-in music/TV/fellow sufferers/foul language.

Who needs to be bombarded with that when you are already in distress?

Medication: might it be time to take your meds during your long wait/treatment time and they are in the pillbox at home on the counter?

One might also consider a chair pillow. My last trip had me sitting on something that caused my backside to go numb after three hours.

Once your kit is assembled, wouldn't it be nice if it followed the old adage that if you bring your umbrella it won't rain!




****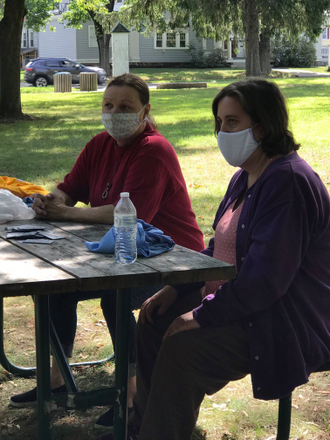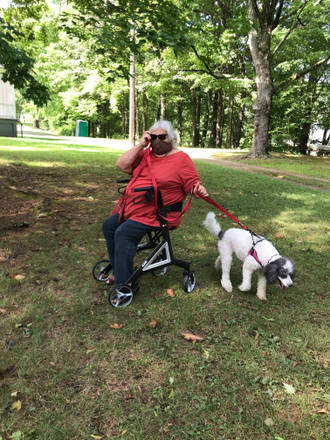 Knock knock! Who's there?A chew.A chew who?God bless you.
Knock knock! Who's there? Agatha.Agatha who?Agatha headache.Do you have any aspirin?
Knock knock; Who's there?Anita.Anita who? Anita tissue...Ah choo. Too late!
Knock knock! Who's there? Colin. Colin who? Colin the doctor, i am sick!
Knock knock! Who's there? Arthur. Arthur who? Arthur - mometer is good for measuring your temperature!
Knock knock! Who's there? Arthur. Arthur who? Arthur glad that I am done doing these jokes?
****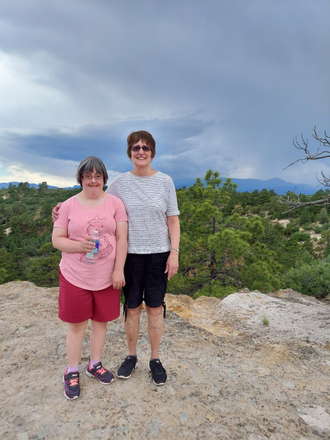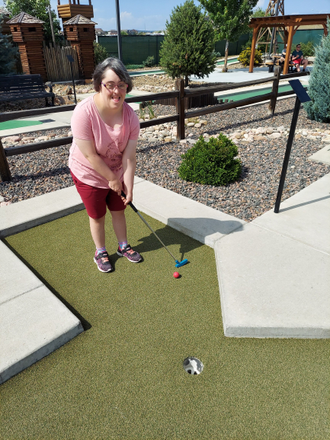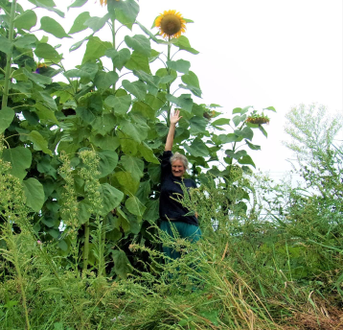 Greetings from J.A. and E.A. in Colorado
It has been a year since we made our trip across the country from Vermont to Colorado. We were thankful during the past year to be able to connect to Inclusion Center. With the time change, it was not always easy but, when we did, it was so great to see familiar faces and talk about topics of interest to all. I hope you will soon be able to meet in person again and meeting at the Common is a positive step towards that goal.
Erin, isolated for so long, has finally joined a Day Program, Empowered Care. It's much different than the services received from HCRS which was a one-on-one program. Erin joins a group of 15 and as a group visits museums, parks, and participates out-door activities. She spends one day at the center working on a project, cooking and participating in an indoor activity. She enjoys being with others and is doing well in this type of program. I'm just wondering how long this will last and if we're heading back to masks and isolation, once again.
We'll look forward to seeing all of you on Zoom. In the meantime, stay safe and well.
Jennifer, Mark and Erin Ansart
****
I am at the tail end of healing from a second attack of Lyme disease. The pain that arrived with this infection was astounding and gave me a whole new appreciation of EVERY MINUTE that I am NOT in pain. It is my new 'favorite gift' that I am granted on any given day and is at the top of my Gratitude List.
Writing a letter to the editor for the local paper got me back into writing and I am so happy about that. I am even beginning to research how to submit the dozens of manuscripts that I have been hauling around from rental to rental. Maybe now is the magic time.
In spite of my aversion to vaccines, I got the Moderna shots simply so I could attend my daughter's wedding. I am choosing not to think about future repercussions of having an unknown toxin floating around my body. It is a cause of great anxiety for me.
My chest freezer is nearly full of garden produce now. When I was homebound with my first tick bite infections accompanied by recovery from 3 major surgeries, the possibility of having a garden in my future 'kept me going.' So now I am reaping the benefits of having made that dream come true. I am giving a third of the stuff away since my body rejects so many foods but it is the growing process that brings me so. much. joy.